Welcome to Nursery and Reception
Hello and welome to Nursery and Reception at St Mary's CE Primary school.
The teaching staff in this class are Miss Carney, Mrs Green, Mrs Gallagher and Mrs Asli. We would like you to visit this page to find out everything that is happening in Nursery and Reception. We hope to keep you updated on what we have been learning and you can look out for any homework that we would like your child to complete.
If you have any questions, please do not hesitate to contact us.
Thank you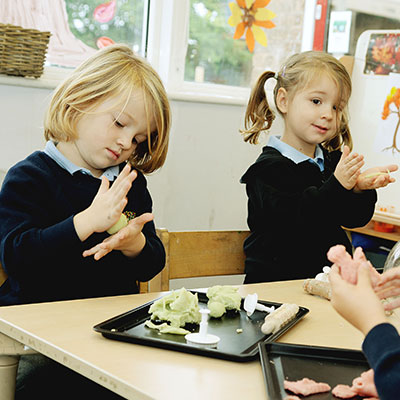 What are we learning this term
Learning in Action
Hedgehogs
As part of their topic on Autumn, the children have been finding out about hedgehogs. They decided to make their own hedgehogs and homes for them.
Winter
As part of their topic on Winter, the children have been finding out about penguins. They have made their own penguins and found out some amazing facts for their writing.
Real Life Superheroes
As part of their superhero theme, Nursery and Reception have had visits from real life superheroes.
The children learned all about how farmers provide the food we eat, how a doctor helps people get better when they are ill and how scientists have helped during the pandemic. We could see all the germs that are on our hands if we don't wash them properly under the ultra violet light!
The Scarecrow's Wedding
In Autumn, the children in Nursery and Reception, have been reading the Scarecrow's Wedding.
They worked together to make their own scarecrows, choosing suitable materials to make their faces. Everyone agreed that paper would get soggy in the rain. They decided a scarecrow was needed in Mrs Hissitt's garden to protect the seeds and little plants from the birds.
Invitations were written and a banner was made to invite everyone to the wedding. There was music, played by our very own band, confetti food and even fireworks for post wedding entertainment.
---